GYDXTW Fiber Optic Cable,Optical Fiber Cables GYDXTW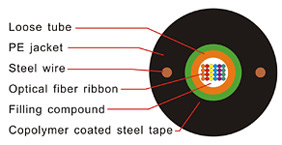 Central tube fiber ribbon cables GYDXTW Fiber optic Cable,Fiber optic cable GYDXTW is an Aerial or Duct use fiber optic cable.Fiber optic cable GYDXTW is an Aerial or Duct use fiber optic cable; we supply GYDXTW cable from 72 cores to 144 cores with both single mode and multimode types.

GYDXTW fiber cable is central loose tube fiber optical ribbon cable which is suitable for installation between bureaus, metropolitan network, and access network and especially suitable for the situation where high density fibers are required. GYDXTW fiber optic cable features the central situated loose tube with good excess length and minimizes the influence lateral crush, the double wire inside the GYDXTW fiber optic cable as the strength member provides excellent strain performance.

Fiber optic cable GYDXTW, 72~144 fibers, jelly filled and fiber ribbon contained central loose tube, water blocking jelly, copolymer coated steel tape, two parallel steel wires 1.3mm, PE outer sheath, G652D SM fiber. Detailed specification on your request.

Fiber Optic Cable GYDXTW Features:
Low dispersion and attenuation
Proper design, precise control for fiber excess length and distinct stranding process render the cable excellent mechanical and environmental properties
Double-jacket structure make cable have nice properties of moisture resistance and crush resistance
With small cable diameter, light cable weight, easily to lay
Operating Temperature : -40 ~ +60 ?