LC Fiber Optic Pigtail,LC Fiber Optic Pigtails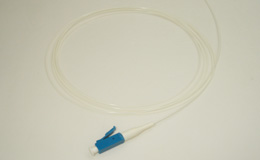 LC fiber optic pigtails supplied by comsouthern.com are single mode and multimode versions, these small form fiber optic products are widely used in telecommunications, industrial, medical and multimedia fields. LC features the compact size and low optical loss.

LC fiber optic pigtail connector is with pull proof design and RJ45 style interface. Based on the original LC fiber optic connector, LC uniboot and LC unibody types are developed by the fiber optic manufacturers. We supply the ceramic ferruled LC fiber optic pigtail and related components including the LC adapters and LC optical fiber attenuator, patch cables.